We selected some areas of Tokyo (central) which are easily accessible both from the airport (Haneda/Narita) and the venue shown in the following figure.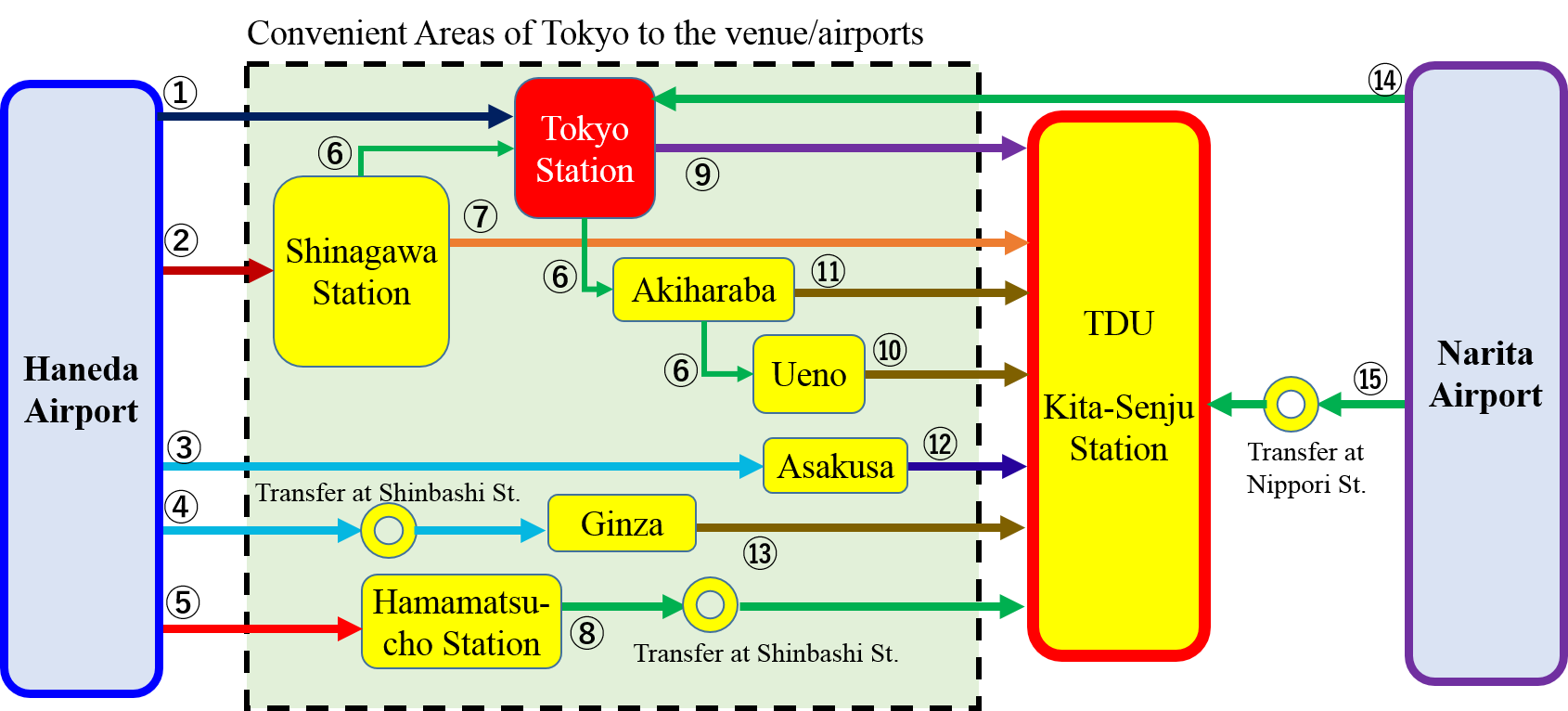 Each location in the figure belongs to one of areas as follows. 
   Central Tokyo:    Tokyo, Ginza, Akihabara, Hamamatsucho   
   Northern Tokyo:  Ueno, Kita Senju   
   Eastern Tokyo:    Asakusa   
   Southern Tokyo: Shinagawa, Haneda Airport
You can find the detailed information about such areas via
"GO TOKYO".
For the transportation to such areas, please check the following Table 1.  We also selected some Hotels with good access from the stations as shown in Table 2, just for your reference. 
Table 1: Transportation to get to the central Tokyo from Airports & to get TDU from the central Tokyo
 

Keikyu Airport Line (Kaitoku)

Keikyu Airport Line (Kaitoku)

Keikyu Airport Line (Kaitoku) to Shibashi

transfer to Tokyo Metro Ginza Line

13 minutes (to Tokyo St.)

18 minutes (to Akihabara)

JR Yamanote Line to Shibashi, t

ransfer to JR Ueno Tokyo Line 

Tokyo Metro Hibiya Line to Kita-senju

Tokyo Metro Hibiya Line to Kita-senju

Tobu Sky Tree Line bound to Kita-senju

Tokyo Metro Hibiya Line to Kita-senju

Keisei Skyliner to Nippori, t

ransfer to JR Joban Line 
Table 2: Hotels with good access from stations for your reference
Shinagawa Area

Shinagawa Prince Hotel

4 stars

HP

Keikyu EX Hotel Shinagawa

3 stars

HP

Shinagawa TOBU Hotel

3 stars

HP

MiyakoCity TokyoTakanawa

2 stars

HP

Hamamatsu-cho Area

Scanco Inn Grande Tokyo Hamamatsucho

3 stars

HP

HOTEL MYSTAYS PREMIER Hamamatsucho

3 stars

HP

Super Hotel Hamamatsucho

non

HP

Tokyo Station Area

Shangri-Lia Hotel Tokyo

5 stars

HP

Hotel Metropolitan Marunouchi

4 stars

HP

Hotel Ryumeikan Tokyo

3 stars

HP

Mitsui Garden Hotel Kyobashi

3 stars

HP

Ginza Area

Millennium Mitsui Garden Hotel Tokyo

4 stars

HP

Super Hotel Premier Ginza

3 stars

HP

Solaria Nishitetsu Hotel Ginza

3 stars

HP

The Gate Hotel Tokyo By Hulic

3 stars

HP

Akihabara Area

Akihabara Washington Hotel

3 stars

HP

Remm Akihabara

3 stars

HP

Resol Hotel&Resort

3 stars

HP

Ueno Area

Mitsui Garden Hotel Ueno 

3 stars

HP

Sutton Place Hotel Ueno

3 stars

HP

Apartment Hotel Mimaru Ueno East/North

3 stars

HP

Asakusa Area

Asakusa View Hotel

4 stars

HP

The b Asakusa

3 stars

HP

Hotel Keihan

3 stars

HP

RED PLANET TOKYO ASAKUSA

3 stars

HP